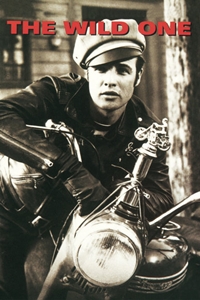 Opening Date:
April 1, 1954
Cast:
Marlon Brando, Mary Murphy, Robert Keith, Lee Marvin, Jay C. Flippen, Peggy Maley, Hugh Sanders, Ray Teal, John Brown, Will Wright
Synopsis:
Johnny and his vicious biker gang invade a small, sleepy 1950s California town. The leather-jacketed young biker seems hell-bent for destruction until he falls for Kathie, a good girl whose father happens to be a cop. Unfortunately for Johnny, his one shot at redemption is threatened by a psychotic rival, Chino, plus the hostility and prejudice of the townspeople. All their smoldering passions explode in an electrifying climax!
The Wild One (1953) (NR)
Click bold theatre name for showtimes and tickets.
Showtimes available three days prior to opening.