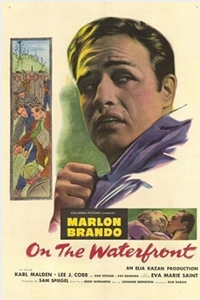 Opening Date:
October 1, 1954
Cast:
Marlon Brando, Karl Malden, Lee J Cobb, Rod Steiger, Pat Henning, Eva Marie Saint, Leif Erickson, James Westerfield, Tony Galento, Tami Mauriello
Synopsis:
A slightly dim-witted ex-boxer, working on the docks of Hoboken's waterfront, is challenged to step up to the mobsters who control the longshoremen's' union by appearing before a state commission as witness after his lawyer brother and best friend are rubbed out. Prodding him to this calling are the local priest and the girl he loves -- the sister of his murdered friend.
On the Waterfront (1954) (NR)
Click bold theatre name for showtimes and tickets.
Showtimes available three days prior to opening.