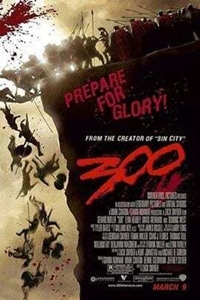 Opening Date:
March 9, 2007
Cast:
Gerard Butler, Lena Headey, David Wenham, Dominic West, Vincent Regan, Rodrigo Santoro
Genre:
Action/Adventure, Drama, War
MPAA Rating:
R for graphic battle sequences throughout, some sexuality and nudity
Synopsis:
In the midst of the Persian-Greco war, Spartan King Leonidas leads his army of 300 soldiers into battle against the invading Persian army during the Battle of Thermopylae. According to legend, their valor and sacrifice inspired all of Greece to unite against the Persian foe, leading to the origins of democracy.
300 (R)
Click bold theatre name for showtimes and tickets.
Showtimes available three days prior to opening.