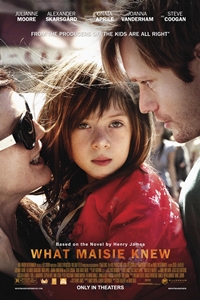 Cast:
Julianne Moore, Alexander Skarsgard, Steve Coogan, Onata Aprile, Emma Holzer, Diana García, Stephen Mailer, Joel Garland, Samantha Buck, Gil O'Brien
Director:
Scott McGehee, David Siegel
MPAA Rating:
R for some language
Synopsis:
Maisie is a sweet, sensitive six-year-old girl stuck in the middle of a divorce between her rock star mother and art dealer father. Too busy and self-involved to care for her properly, both parents enlist their new partners as carers for their daughter. But when Maisie's bond with this new pair begins to grow the parents must face some difficult home truths.

What Maisie Knew (R)
Click bold theatre name for showtimes and tickets.
Showtimes available three days prior to opening.