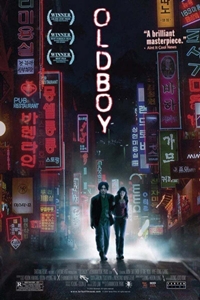 Opening Date:
March 25, 2005
Cast:
Choi Min-Sik, Yu Ji-tae, Kang Hye-jeong, Dae-han Ji, Seung-Shin Lee, Byeong-ok Kim, Dal-su Oh, Su-hyeon Kim, Seung-jin Lee, Su-kyeong Yun
MPAA Rating:
R for strong violence including scenes of torture, sexuality and pervasive language
Synopsis:
An ordinary man named Oh Dae-su, who lives with his wife and adorable daughter, is kidnapped and later wakes up to find himself in a private makeshift prison. Dae-su makes numerous attempts to escape and to commit suicide, but they all end up in failure. All the while Dae-su asks himself what made a man hate him so much enough to imprison him without any reason. While suffering from his debacle, Dae-su becomes shocked when he watches the news and hears that his beloved wife was brutally murdered. At this very moment, Dae-su swears to take revenge on the man who destroyed his happy life. Fifteen years later Dae-su is released with a wallet filled with money and a mobile phone. An unknown man calls Dae-su and asks him to figure out why he was imprisoned.
Oldboy (Oldeuboi) (2005) (R)
Click bold theatre name for showtimes and tickets.
Showtimes available three days prior to opening.