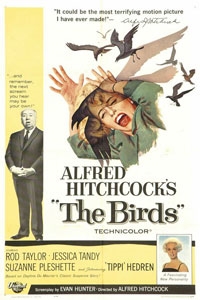 Release Date:
March 28, 1963
Cast:
Tippi Hedron, Rod Taylor, Suzanne Heshette, Jessica Tandy, Veronica Cartwright
Director:
Alfred Hitchcock
Synopsis:
Alfred Hitchcock's famous classic where a flock of birds terrorize the small town Bodega Bay.
The Birds (PG13)
PLAYING MARCH 10 AT:
Show times are available on this date for theatres in bold type. Click theatre name for tickets.