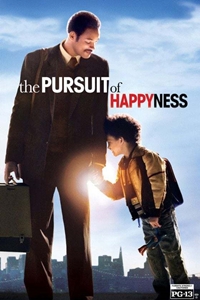 Opening Date:
November 25, 2006
Cast:
Will Smith, Thandie Newton, Jaden Smith, Dan Castellaneta, Zuhair Haddad, Brian Howe
Director:
Gabriele Muccino
MPAA Rating:
PG13 for some language
Synopsis:
Chris Gardner is a bright and talented, but marginally employed salesman. Struggling to make ends meet, Gardner finds himself and his five-year-old son evicted from their San Francisco apartment with nowhere to go. When Gardner lands an internship at a prestigious stock brokerage firm, he and his son endure many hardships, including living in shelters, in pursuit of his dream of a better life for the two of them.
The Pursuit of Happyness (PG13)
Click bold theatre name for showtimes and tickets.
Showtimes available three days prior to opening.