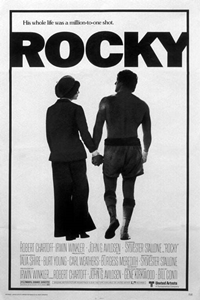 Opening Date:
November 21, 1976
Cast:
Sylvester Stallone, Talia Shire, Burt Young, Carl Weathers, Burgess Meredith, Thayer David, Joe Spinell, Jimmy Gambina, Bill Baldwin Sr., Al Silvani
Director:
John G. Avildsen
Genre:
Drama, Action/Adventure, Romance
Synopsis:
A slightly dimwitted amateur boxer from Philadelphia's tough neighborhood gets a surprise shot at fighting for the heavyweight championship, while at the same time he finds love in the arms of a shy, reclusive girl who works in the local pet store.
Rocky (PG)
Click bold theatre name for showtimes and tickets.
Showtimes available three days prior to opening.