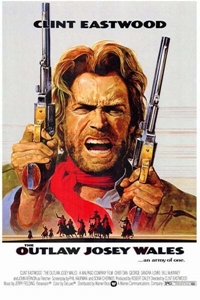 Opening Date:
June 30, 1976
Cast:
Clint Eastwood, Chief Dan George, Sondra Locke, Bill McKinney, John Vernon, Paula Trueman, Sam Bottoms, Geraldine Keams, Woodrow Parfrey, Sheb Wooley
Genre:
Action/Adventure, Drama
Synopsis:
The Outlaw Josey Wales chronicles the hero's violent journey westward after the Civil War. With fresh memoris of his family's slaughter by Red Leg soldier Terrill, Confederate Josey Wales refuses to join his captain Fletcher and the rest of his comrades in surrender to a U.S. Army regiment. Deemed a dangerous outlaw after a bloody one-man battle with that regiment, Josey is pursued by U.S. cavalry soldiers led by the unwilling Fletcher and the murderous Terrill, as well as by bounty hunters who eventually learn how coolly lethal Wales can be.
The Outlaw Josey Wales (PG)
Click bold theatre name for showtimes and tickets.
Showtimes available three days prior to opening.