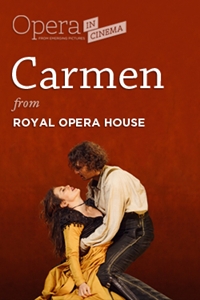 Opening Date:
January 6, 2013
Cast:
Anna Caterina Antonacci, Jonas Kaufmann, Norah Amsellem, Ildebrando D'Arcangelo
Director:
Francesca Zambello, Antonio Pappano
Synopsis:
Anna Caterina Antonacci is "mesmerizing" and Jonas Kaufmann is "the finest Jose to be heard for ages," in Carmen. (Tim Ashley, The Guardian) This Royal Opera production by director Francesca Zambello is a darkly passionate and sumptuously exotic reading of one of the world's favorite operas. Under the baton of Music Director Antonio Pappano, Bizet's irresistible score drives the tragedy forward, in this powerful landmark staging of a musical masterpiece.
Opera in Cinema: Royal Opera House's "Carmen" (2013) (NR)
Click bold theatre name for showtimes and tickets.
Showtimes available three days prior to opening.