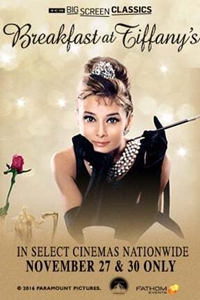 Opening Date:
October 5, 1961
Cast:
Audrey Hepburn, George Peppard, Buddy Ebsen, Martin Balsam, José Luis de Villalonga, John McGiver, Alan Reed, Dorothy Whitney, Beverly Powers, Stanley Adams
Genre:
Comedy, Drama, Romance
Synopsis:
A lonely, struggling writer becomes enchanted with his neighbor: an independent young woman who strives to be a high-climbing socialite with a penchance for high-fashion and wild parties. But, soon he uncovers the vulnerability she has at heart.
Breakfast at Tiffany's (NR)
Click bold theatre name for showtimes and tickets.
Showtimes available three days prior to opening.