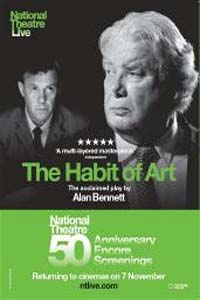 Cast:
Michael Gambon, Alex Jennings, Frances de la Tour
Director:
Nicholas Hytner
Synopsis:
"The Habit of Art" deals with involves W.H; Auden in his last years and includes a fictional meeting between the poet and the composer Benjamin Britten, who famously fell out in the 1940s after a long friendship.
National Theatre Live: The Habit of Art (NR)
PLAYING MARCH 7 AT:
Show times are available on this date for theatres in bold type. Click theatre name for tickets.