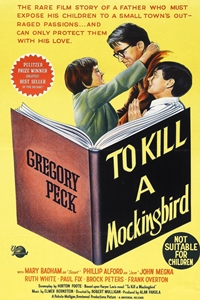 Opening Date:
December 25, 2015
Cast:
Gregory Peck, Robert Duvall, Mary Badham, Phillip Alford, John Megna, Frank Overton, Rosemary Murphy, Ruth White, Brock Peters, Estelle Evans
Director:
Robert Mulligan
Synopsis:
Atticus Finch, a depression-era Southern attorney, fearlessly defends a black man accused of raping a white woman.
To Kill a Mockingbird (1962) (NR)
Click bold theatre name for showtimes and tickets.
Showtimes available three days prior to opening.