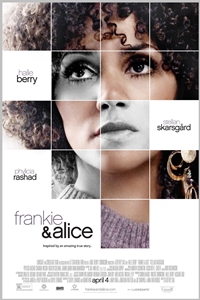 Opening Date:
April 4, 2014
Cast:
Stellan Skarsgård, Halle Berry, Matt Frewer, Chandra Wilson, Phylicia Rashad, Melanie Papalia, James Kirk, Emily Tennant, Brian Markinson, Kira Clavell
MPAA Rating:
R for some sexual content, language and drug use
Synopsis:
This film is inspired by the remarkable true story of an African American go-go dancer "Frankie" with multiple personalities (dissociative identity disorder or "DID") who struggles to remain her true self while fighting against two very unique alter egos: a seven-year-old child named Genius and a Southern white racist woman named Alice. In order to stop the multiple voices in her head, Frankie works together with a psychotherapist to uncover and overcome the mystery of the inner ghosts that haunt her.
Frankie and Alice (R)
Click bold theatre name for showtimes and tickets.
Showtimes available three days prior to opening.