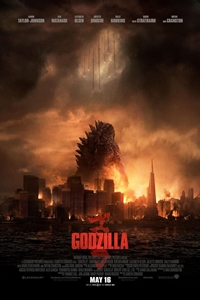 Opening Date:
May 16, 2014
Cast:
Aaron Taylor-Johnson, Ken Watanabe, Elizabeth Olsen, Juliette Binoche, Sally Hawkins, David Strathairn, Bryan Cranston
Genre:
Action/Adventure, SciFi/Fantasy
Synopsis:
An epic rebirth to Toho's iconic Godzilla, this spectacular adventure pits the world's most famous monster against malevolent creatures who, bolstered by humanity's scientific arrogance, threaten our very existence.
Godzilla: An IMAX 3D Experience (PG13)
Click bold theatre name for showtimes and tickets.
Showtimes available three days prior to opening.