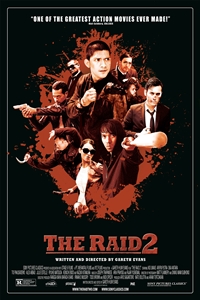 Opening Date:
March 28, 2014
Cast:
Iko Uwais, Tio Pakusadewo, Putra Arifin Scheunamann, Julie Estelle, Alex Abbad, Roy Marten
Director:
Gareth Huw Evans
Genre:
Action/Adventure, Suspense/Thriller, Drama
MPAA Rating:
R for sequences of strong bloody violence throughout, sexuality and language
Synopsis:
Picking up from right where the first film ends, The Raid 2 follows Rama as he goes undercover and infiltrates the ranks of a ruthless Jakarta crime syndicate in order to protect his family and uncover the corruption in his own police force.
The Raid 2 (R)
Click bold theatre name for showtimes and tickets.
Showtimes available three days prior to opening.