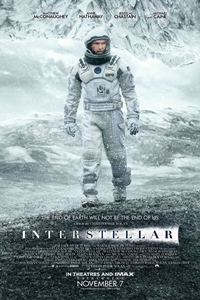 Opening Date:
November 5, 2014
Cast:
Matthew McConaughey, Anne Hathaway, Jessica Chastain, Bill Irwin, John Lithgow, Casey Affleck, David Gyasi, Wes Bentley, Mackenzie Foy, Timothée Chalamet
Director:
Christopher Nolan
MPAA Rating:
PG13 for some intense perilous action and brief strong language
Synopsis:
With our time on Earth coming to an end, a team of explorers undertakes the most important mission in human history; traveling beyond this galaxy to discover whether mankind has a future among the stars.
Interstellar: The IMAX Experience (PG13)
Click bold theatre name for showtimes and tickets.
Showtimes available three days prior to opening.