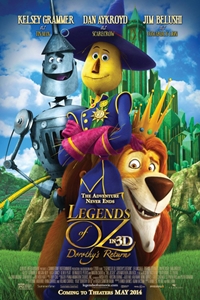 Cast:
Lea Michele, Martin Short, Dan Aykroyd, Kelsey Grammer, Jim Belushi, Megan Hilty, Hugh Dancy, Oliver Platt, Patrick Stewart, Bernadette Peters
Director:
Daniel St. Pierre, Will Finn
Genre:
Animation, Family, Musical
MPAA Rating:
PG for some scary images and mild peril
Synopsis:
As a continuation of one of the world's most popular stories, this film finds Dorothy waking up to a devastated post-tornado Kansas and is soon rushed back to Oz to save her old friends the Scarecrow, the Tin Man, the Cowardly Lion, Glinda the Good Witch and the entire Land of Oz from the devious brother of the Wicked Witch of the West -- The Jester. With Dorothy as their only hope to restore order and happiness to Emerald City, she must battle through a magical journey with Toto along her side and new friends she meets to help her find her way.
Legends of Oz: Dorothy's Return 3D (PG)
Click bold theatre name for showtimes and tickets.
Showtimes available three days prior to opening.