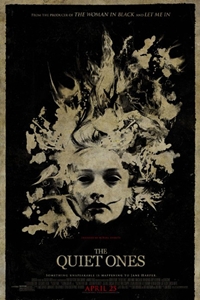 Opening Date:
April 25, 2014
Cast:
Jared Harris, Sam Claflin, Erin Richards, Rory Fleck-Byrne, Olivia Cooke, Laurie Calvert
MPAA Rating:
PG13 for intense sequences of violence and terror, sexual content, thematic material, language, and smoking throughout
Synopsis:
Tucked away in an estate outside of London, Professor Coupland along with a team of university students conduct an "experiment" on Jane Harper, a young girl who harbors unspeakable secrets. What dark forces they uncover are more terrifying than any of them expected.
The Quiet Ones (PG13)
Click bold theatre name for showtimes and tickets.
Showtimes available three days prior to opening.