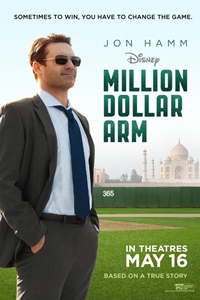 Opening Date:
May 10, 2014
Cast:
Jon Hamm, Bill Paxton, Lake Bell, Suraj Sharma, Aasif Mandvi, Madhur Mittal, Pitobash, Alan Arkin
Director:
Craig Gillespie
MPAA Rating:
PG for mild language and suggestive content
Synopsis:
In a last ditch effort to save his career as a sports agent, JB Bernstein concocts a scheme to find baseball's next great pitcher. Hoping to find a young cricket pitcher he can turn into a major league baseball star, JB travels to India to produce a reality show competition called "Million Dollar Arm." He discovers Dinesh and Rinku, two 18 year old boys who have no idea about playing baseball, yet have a knack for throwing a fastball. As the boys learn the finer points of baseball - JB, with the help of his charming friend Brenda (Lake Bell) - learns valuable life lessons about teamwork, commitment and what it means to be a family.
Million Dollar Arm (PG)
Click bold theatre name for showtimes and tickets.
Showtimes available three days prior to opening.