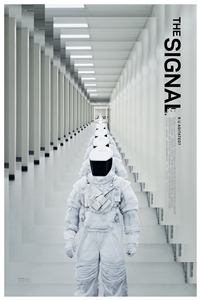 Opening Date:
June 13, 2014
Cast:
Laurence Fishburne, Brenton Thwaites, Sarah Clarke, Lin Shaye, Olivia Cooke
Genre:
SciFi/Fantasy, Suspense/Thriller
MPAA Rating:
PG13 for some thematic elements, violence and language
Synopsis:
Nic, his girlfriend, Haley, and his buddy, Jonah, take an unexpected detour from an idyllic cross-country road trip when they are contacted by a mysterious hacker who has gained entry into MIT's secured network. But after a rendezvous in an eerily remote area goes awry, Nic wakes to a living nightmare in an isolation unit. Interrogated by Dr. Wallace Damon, Nic soon realizes that the only way to decipher the past...is to escape the present.
The Signal (PG13)
Click bold theatre name for showtimes and tickets.
Showtimes available three days prior to opening.