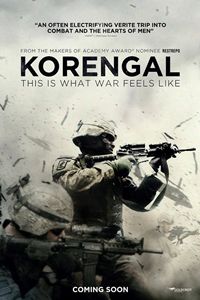 Opening Date:
May 30, 2014
Cast:
Misha Pemble-Belkin, Dan Kearney
Director:
Sebastian Junger
MPAA Rating:
R for language throughout and brief nude images
Synopsis:
Korengal picks up where Restrepo left off; the same men, the same valley, the same commanders, but a very different look at the experience of war. Korengal explains how war works, what it feels like and what it does to the young men who fight it. As one soldier cheers when he kills an enemy fighter, another looks into the camera and asks if God will ever forgive him for all of the killing he has done. As one soldier grieves the loss of his friend in combat, another explains why he misses the war now that his deployment has ended, and admits he would go back to the front line in a heartbeat.
Korengal (R)
Click bold theatre name for showtimes and tickets.
Showtimes available three days prior to opening.