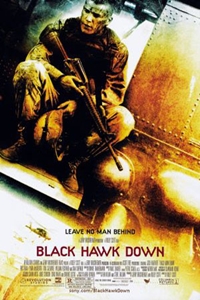 Opening Date:
December 28, 2001
Cast:
Josh Hartnett, Eric Bana, Tom Sizemore, Ewan McGregor, Sam Shepard
Genre:
Drama, Suspense/Thriller
MPAA Rating:
R for intense, realistic, graphic war violence, and for language
Synopsis:
The true story of the United States' involvement in Somalia during an ill-fated humanitarian mission. On October 3, 1993, U.S. soldiers entered Somalia on an exercise that was supposed to take less than an hour. The mission turned into a nightlong battle against thousands of heavily armed Somalians. Eighteen U.S. soldiers and more than 500 Somalians were killed as a result of this conflict.
Black Hawk Down (R)
Click bold theatre name for showtimes and tickets.
Showtimes available three days prior to opening.