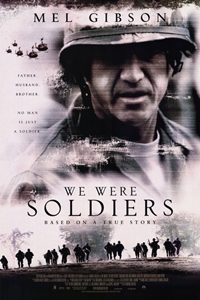 Opening Date:
March 1, 2002
Cast:
Mel Gibson, Greg Kinnear, Keri Russell, Chris Klein, Barry Pepper
Director:
Randall Wallace
MPAA Rating:
R for sustained sequences of graphic war violence, and for language
Synopsis:
A fact-based tale of men under fire, their common acts of uncommon valor, and their loyalty to and love for one another during one of the most savage military battles in U.S. history. On November 14, 1965, in the Ia Drang Valley of Vietnam, in a small clearing called Landing Zone X-Ray, Lieutenant Colonel Hal Moore and 400 troopers from the U.S. 7th Air Cavalry are surrounded by 2000 enemy soldiers in what would become the first, and perhaps the worst, major battle of the Vietnam War.
We Were Soldiers (R)
Click bold theatre name for showtimes and tickets.
Showtimes available three days prior to opening.