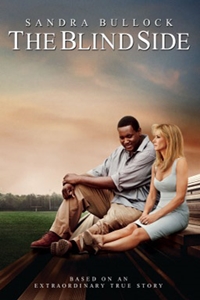 Opening Date:
November 20, 2009
Cast:
Sandra Bullock, Kathy Bates, Tim McGraw, Ray McKinnon, Quinton Aaron, Ashley LeConte Campbell, Eaddy Mays, Irone Singleton
Director:
John Lee Hancock
MPAA Rating:
PG13 for one scene involving brief violence, drug and sexual references
Synopsis:
Teenager Michael Oher is surviving on his own, virtually homeless, when he is spotted on the street by Leigh Anne Tuohy. Learning that the young man is one of her daughter's classmates, Leigh Anne insists that Michael -- wearing shorts and a t-shirt in the dead of winter -- come out of the cold. Without a moment's hesitation, she invites him to stay at the Tuohy home for the night. What starts out as a gesture of kindness turns into something more as Michael becomes part of the Tuohy family despite the differences in their backgrounds. And, as the family helps Michael fulfill his potential, both on and off the football field, Michael's presence in the Tuohys' lives leads them to some insightful self-discoveries of their own.
The Blind Side (PG13)
Click bold theatre name for showtimes and tickets.
Showtimes available three days prior to opening.